Are you having trouble choosing the best parental control app? With so many options available, it can get confusing to choose the right parental control app for yourself.
Well, then you have come to the right place!
After researching 7 of the top parental control apps, I think Qustodio is the best way to keep track of your child's online activity.
If you want to know how I came to this conclusion you may read the whole article, there are some great alternatives especially if you are on a budget.
This article will navigate you through the 7 best parental control apps, their features, and pricing.
Also be sure to check out the following table for a summary:
Top 3 Picks Summary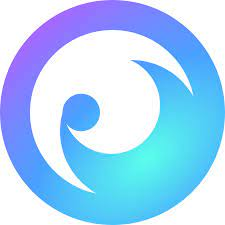 Our Rating

(4.4 / 5)
Best for
If you want to monitor your child's browsing behaviour and keep things simple, Eyezy is the way to go.
Compatibility
Windows, Mac, Android, Iphone
Social Network Monitoring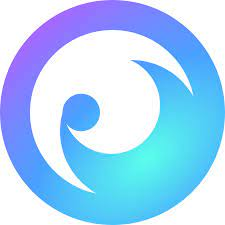 Our Rating

(4.4 / 5)
Best for
If you want to monitor your child's browsing behaviour and keep things simple, Eyezy is the way to go.
Compatibility
Windows, Mac, Android, Iphone
Social Network Monitoring
Why Parental Controls?
To start off, let's review why you have come to visit this site in the first place:
In case you might be swinging between opting for a parental control app or not going for it, here is why you need a parental control app. The world of the internet is a big one, with plenty of stuff to deviate your child's mind and to think towards a problematic approach.
There are gruesome websites as well as hackers and cyberbullies sitting ready to entrap their next target.
To make full use of the internet, it needs to be ensured that your child is wandering on only the positive side of the internet. Parental controls allow you to analyze your child's online activities and restrict them out of the no-go zones of the internet.
You can do so by opting for one of the hundreds of parental control apps out there.
In-depth: The 7 Best Parental Control Apps 2023
And here are our top recommendations as in-depth reviews, so read on and find the one that floats your boat!
1. Best Overall – Qustodio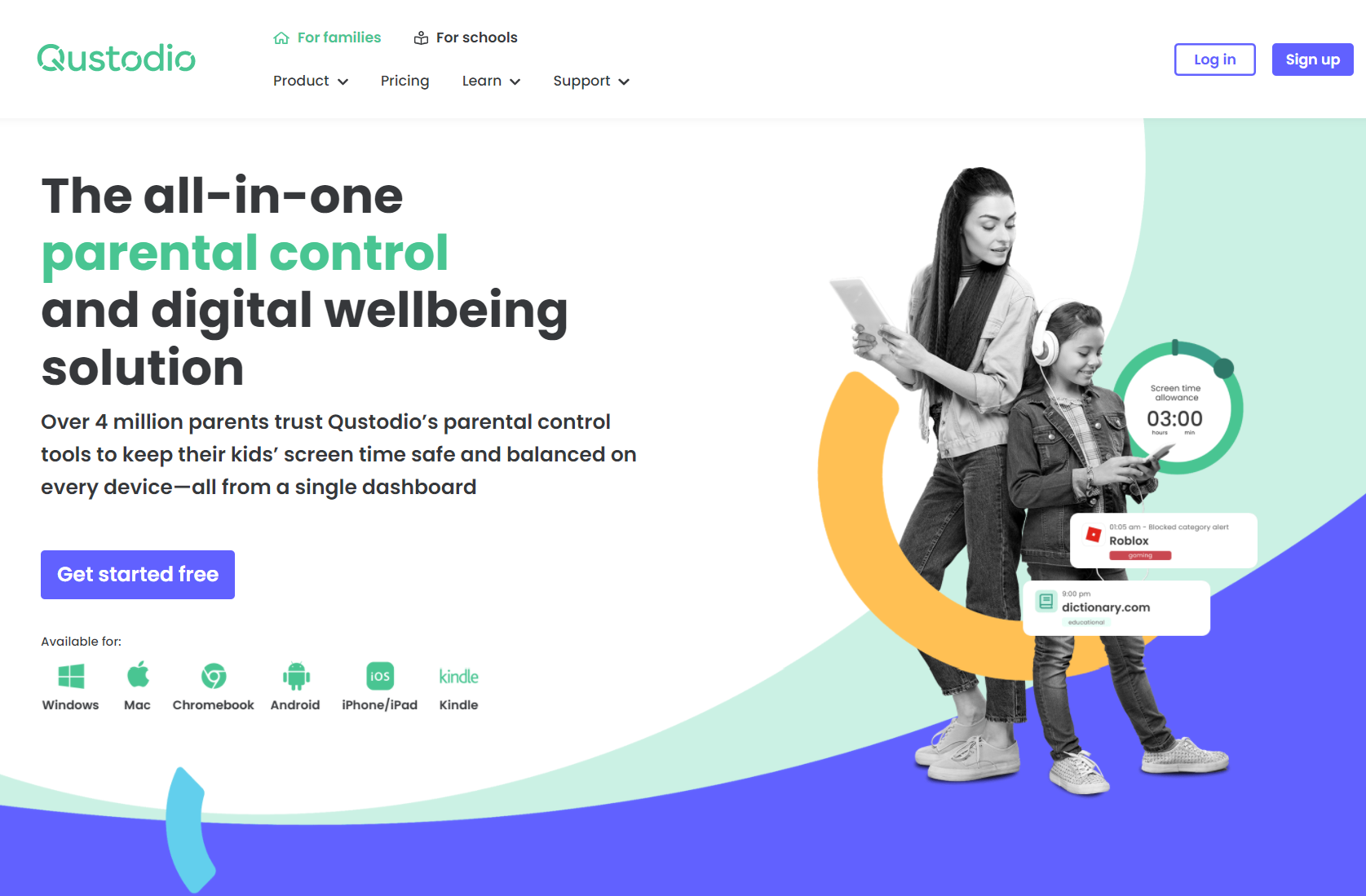 Qustodio is a full-on parental spying app that also remains hidden. It prides itself in being quick and swift in categorizing and detecting websites that are inappropriate for children and teens. It not only blocks verified databases but also analyses the website content to further ensure that all the inappropriate websites are blocked.
Apart from that, Qustodio also provides a detailed analysis of your child's recent activities. You can also block certain websites and apps and also get a notification in case your child tries to access any of those. So, in a nutshell, Qustodio is an all-rounder app with some extra features for you to monitor deeply.
Qustodio | Check For Current Promotion Now
Pricing (*subject to change)
Small: $54 per year
Medium: $96.95 per year
Large: $137.95 per year
2. Best Security – Norton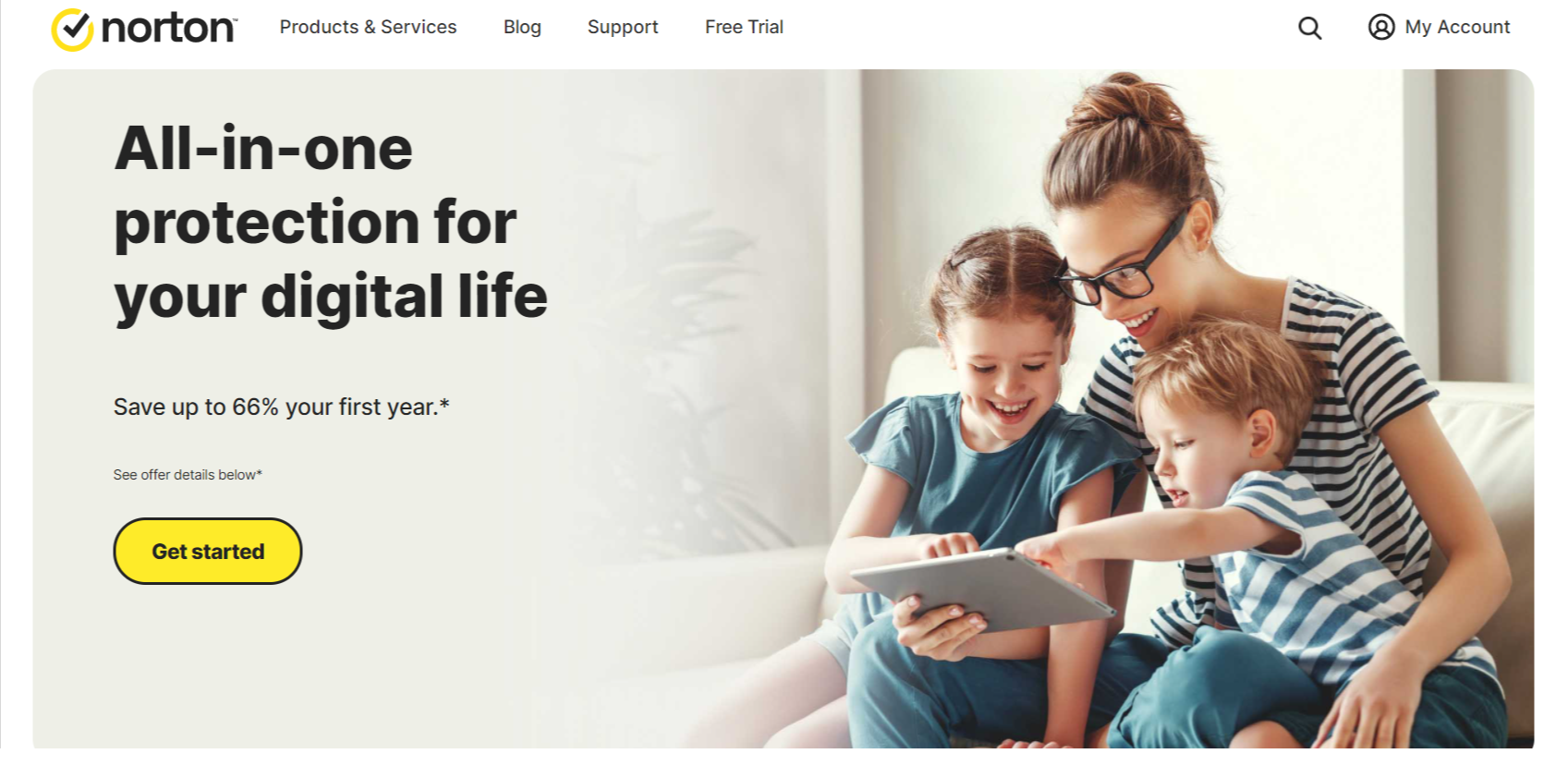 For our security freaks out there, Norton is the best recommendation. In addition to providing parental control features, it also gives you tons of other specifications to protect your device against viruses, identity theft, online threats like malware, ransome, and hackers.
It has an amazing test score from independent antivirus testing SE labs and AV-Test institute. A test conducted by PCMag concluded that Norton automatically eliminated threats from 97 out of 100 URLs. Norton prides itself on its efficiency and capability to safeguard the device from threats. If your device is affected by a virus that the company is unable to remove, you will get a  total refund of your premium.
Features:
The parental control features Norton provides exceptionally impressive.
You can see that the price plans do not vary much according to the payment options. However, the only difference is the features available in each one, such as the number of devices, cloud backup, multi-device sync, and many others.
Norton | Check For Current Promotion Now
Pricing (*subject to change)
Norton 360 Standard: $7.99 per month
Norton 360 Deluxe: $7.99 per month
Norton 360 With Lifelock Select: $9.99 per month
3. Best Value – MSpy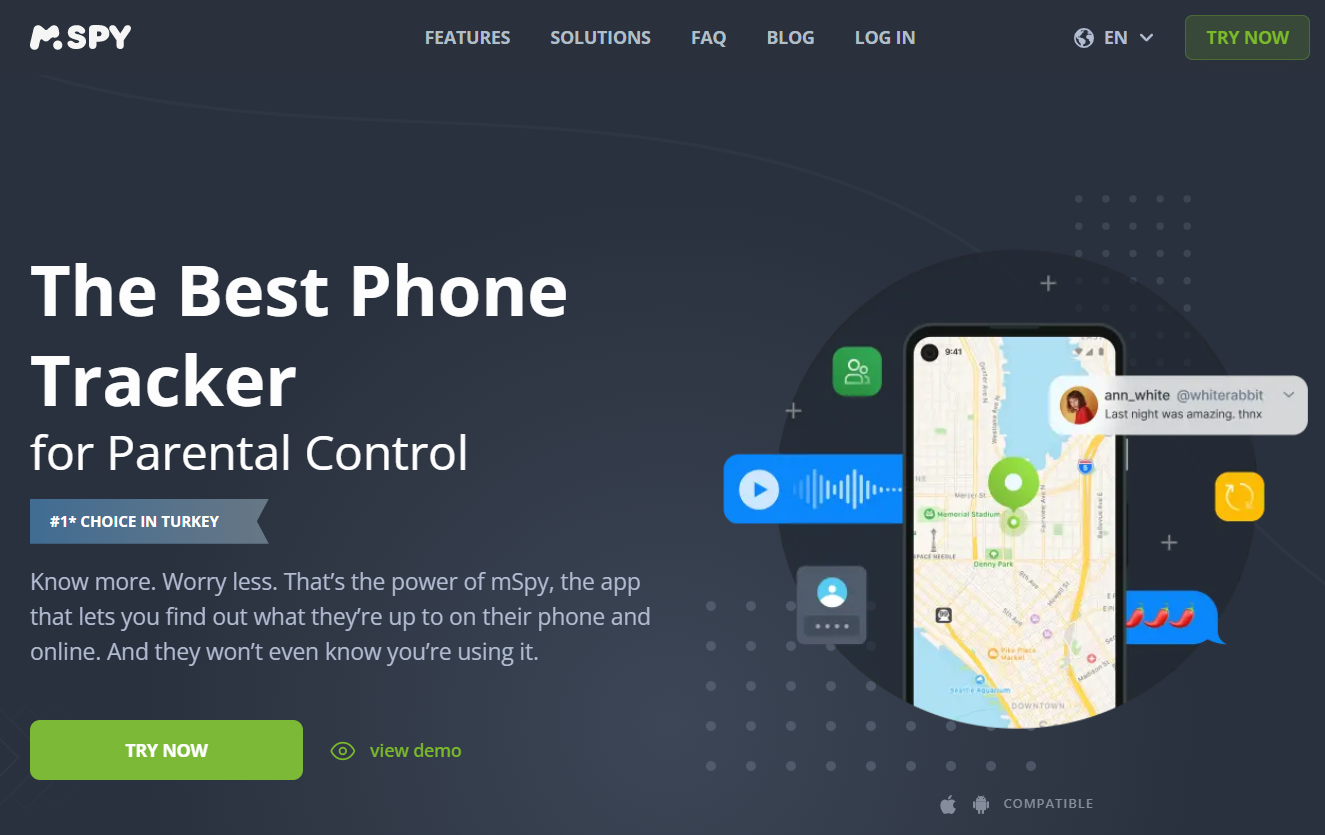 Speaking of the best parental control apps, it is impossible not to mention Mspy. It comes as our top pick if you are on a budget.
Operating under the motto; know more, worry less, mSpy never fails to beat our expectations. Apart from its exceptional features that we will be discussing later, mSpy has a groundbreaking experience of up to 10 years in the industry.
So far, it has served more than 1.5 Million users from more than 180 countries all over the world. They work two steps ahead to ensure that your child's information is secure by using bank-grade encryption. This means none other than yourself can see your child's information and data. MSpy also claims to be invisible and undetectable so that your child does not find out you are spying on them. Hmm, clever!
Signing up to mSpy is an easy task. Even beginners can do it with the flick of a finger. All you have to do is enter your email to create your account, select your plan, and voila! Go spying!
Mspy | Check For Current Promotion Now
Pricing Plans (*subject to change)
1 Month Premium: $48.99 per month
3-month Premium: $27.9 per month
1-year Premium: $11.66 per month
In addition, each plan has a small sum of renewal charges as well.
4. Kaspersky

Kaspersky is a potential alternative to Qustodio. However, it provides not only parental control features but also owns heavy-duty software for malware protection that stands at par with big names such as McAfee and Norton. It has an impressive score of 100% given by SE labs on blocking threats.
Its software is intended to protect cryptocurrency mining, online financial transactions, files and passwords, webcam privacy, browser encryption, and many other privacy safety features. All of these come in addition to parental controls. So it is a perfect fit for those who are highly concerned about their online privacy and security while side by side wants to restrict their child's activity.
Pricing (*subject to change)
Antivirus: $39.95
Internet security: $59.95
Total security: $79.95
5. EyeZy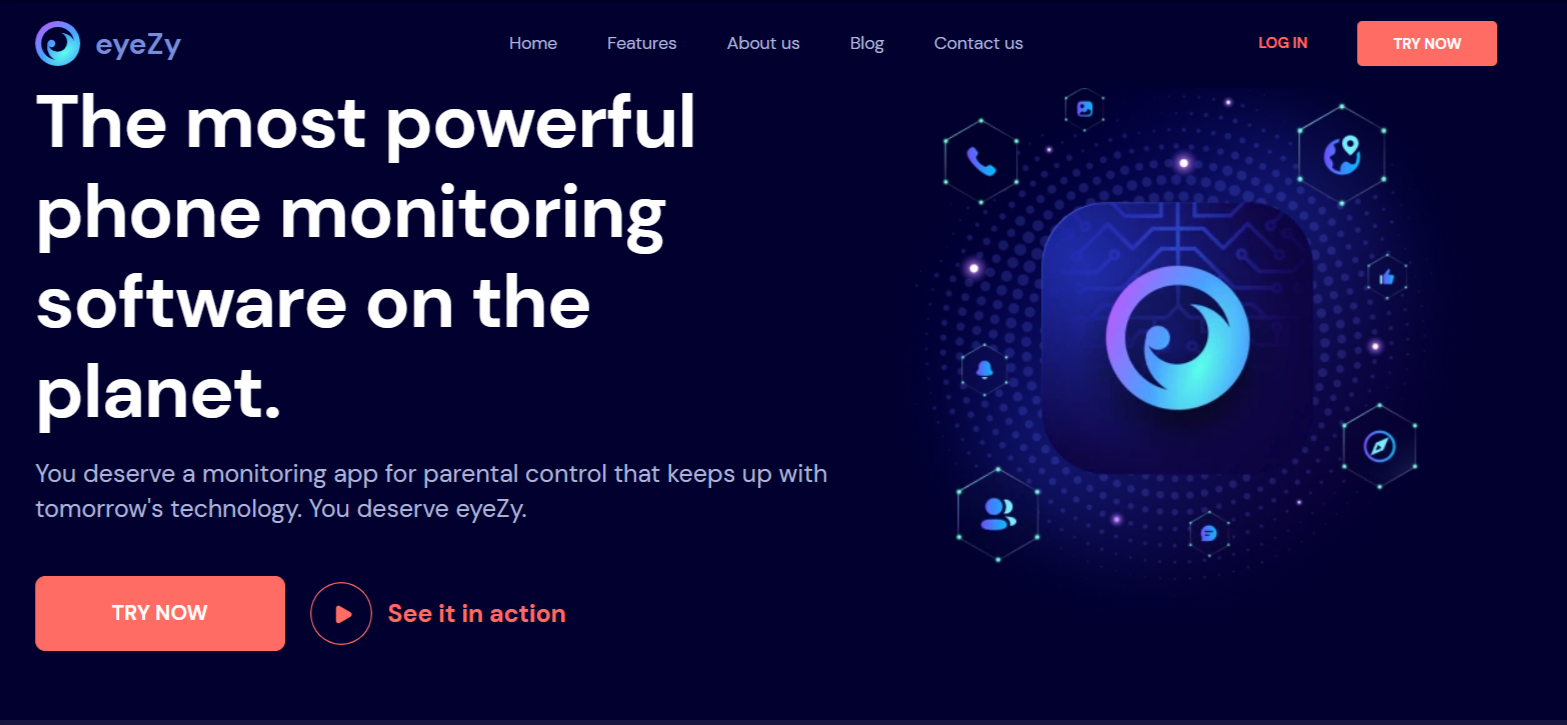 EyeZy is an alternative to mSpy. It also enables you to monitor your child's activity while remaining shielded, i.e., your child would not know that you are monitoring them. EyeZy went a step ahead and even captures and transmits the prohibited keywords that your child types.
Moreover it reads and detects the wifi your child is connected to, along with their location alerts. With decent pricing, eyeZy provides a set of necessary and extraordinary features to ensure efficient parental control over your child's safety.
Eyezy | Check For Current Promotion Now
Pricing (*subject to change)
1 month Plan: $47.95
3 months plan: $27.99 per month
1 year plan: $9.99 per month
6. McAfee
McAfee is a prominent name in the market when it comes to threat protection. It provides the highest possible level of threat protection and is famous for running smoothly. It does not slow down your computer, even while updating.
It holds a great reputation for providing up-to-date malware protection as well as parental controls. It has endpoint security backed by McAfee Global Threat Intelligence, which is a network of numerous sensors constantly monitoring unique ransomware signatures.
Pricing (*Subject to change)
McAfee total protection (1 device): $34.99
McAfee total protection (5 devices): $39.99
McAfee total protection (10 devices): $44.99
McAfee livesafe (unlimited devices): $104.99
7. Iolo Technologies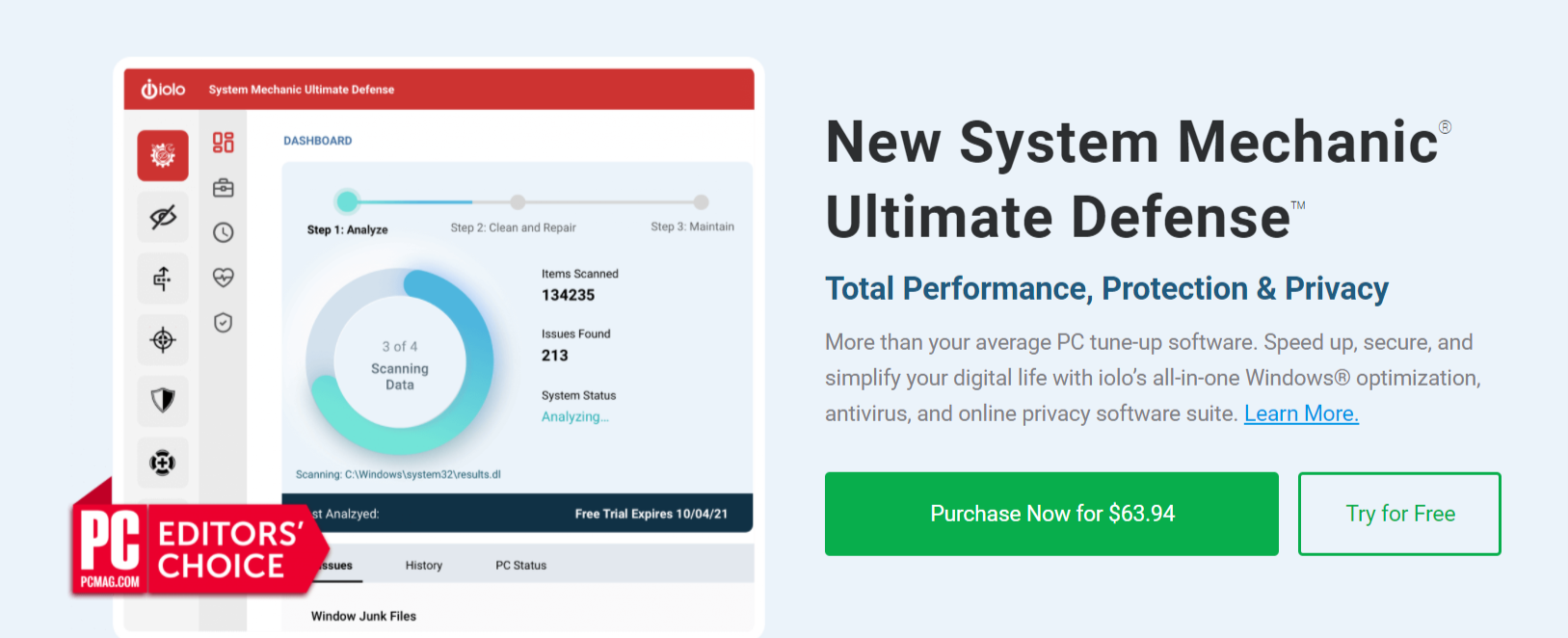 Iolo technologies have the specialty to improve your system's speed and performance as well as keep it safe from malware. It comes with a 30-day money-back guarantee and helps keep threats and hackers at a good distance from your child or device. Its system mechanic does a great job at defragging your hard drive and modifying CPU settings and RAM management.
It is the optimal choice for those parents who want their kids to stay away from any potentially dangerous website, malware, or other threats. It runs smoothly and is user-friendly for even the newest beginners. However, in case of queries, you can make a free phone call to their customer service or do a live chat.
Pricing (*Subject to change)
Iolo technologies offer many different pricing options to choose from, such as:
Byepass: $15.96
Malware killer: $19.96
System shield: $31.96
Privacy Guardian: $27.96
System mechanic: $ 29.99
System mechanic pro: $ 55.96
System mechanic ultimate defense: $63.96
[Bonus 1] Panda Security

Panda Security is an all-in-one app that includes parental controls, malware protection as well as system boost. In addition to protection from online threats, pandas also offer protection against physical theft. It offers to locate, lock and wipe features to protect your device against any physical theft.
Furthermore it also clicks a picture of the intruder if they try to crack your password. It also provides a panic button to click and inform you in case your child faces an emergency situation.
Pricing (*Subject to change)
Essential protection: $19.99
Advanced protection: $37.49
Complete protection: $52.49
[Bonus 2] BullGuard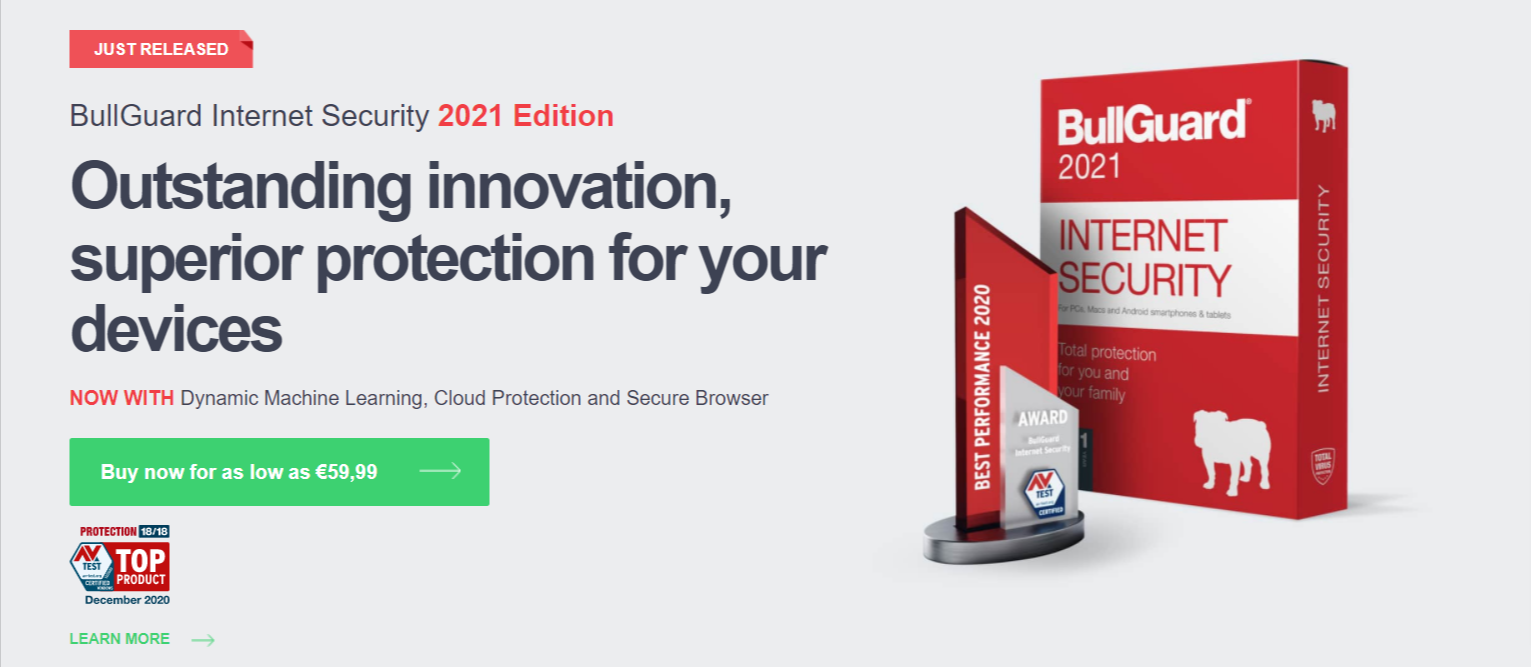 Bullguard is an old name in the market with over 18 years of experience. It offers exceptional and reliable protection from threats, malware, and ransom. It gives access to all necessary parental controls.
Pricing (*Subject to change)
Antivirus plus: $29.99
Internet security: $59.99
Total Security: $99.99
Parental Control Apps FAQ
What is the best parental control app?
There are many potential options available. If you are looking to for the best bang for your buck, MSpy may be your best bet. Qustodio on the other hand has our best overall rating.
There are many things to consider. Check out our comparison table to make the best decision according to your needs.
What to take into account before opting for parental control software?
Before opting for parental control software, take into account your requirements and budget. Check if you need heavy malware protection or if you need parental control over multiple devices. Then consider the options offering these features that fit into your budget as well. Compare all the important features in our in-depth review.
How to keep your kids safe while browsing online?
Parental controls are the best way to keep your kids safe while browsing online. This keeps them safe from watching inappropriate stuff and staying out of reach of cyberbullies.
Are parental control apps invisible?
Yes, many apps allow you to be invisible while monitoring your child's activity.
Yes, almost every parental control app and software have the option of viewing your child's messages. Some even allow you to view the deleted messages as well.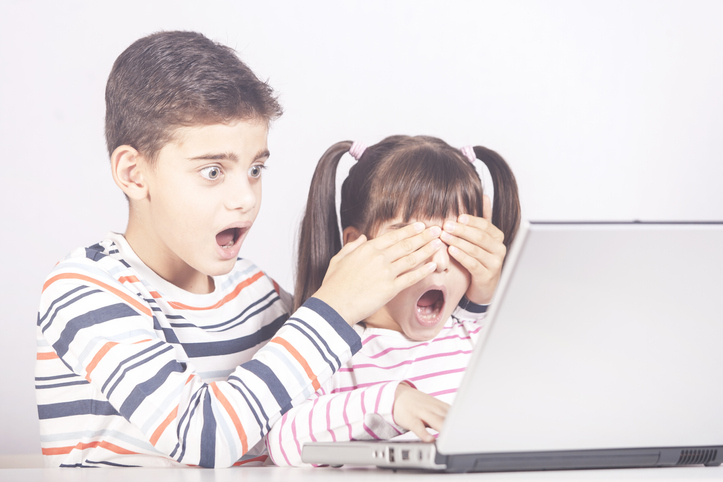 Conclusion
A child's protection is the foremost priority of every parent. However, many parents out there neglect the most dangerous and problematic enemy of our children, the internet. When used in the right way, the internet is a powerful tool.
But still, it holds the ability to corrupt innocent minds and destroys lives. To prevent such mishaps, parental controls are the way to go. They help you monitor every move that your kid makes online. You can take appropriate measures in case you notice any suspicious or troublesome activity that your child has indulged in.
After having read the above article, you must now be well aware of the fact that Qustodio is the hands down number 1 pick, however there are numerous amazing options available out there and figure out which one suits your needs.
Time is ticking! Install a suitable parental control and go get doing efficient parenting!